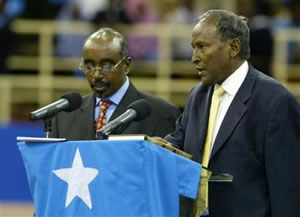 Abdullahi Yusuf Ahmed , Somali's New President
Thu 14 October, 2004 11:35

By C. Bryson Hull
NAIROBI (Reuters) - Somalia's newly elected president, Abdullahi Yusuf, has taken his oath of office, faced with restoring stability to his anarchic country after more than a decade without central government.
Watched on Thursday by a selection of African and some Arab leaders, Yusuf, 69, took the oath in the Somali language as well-wishers clapped and cheered, waving the blue flag of the Horn of Africa state.
Wearing a dark suit and yellow tie, the former warlord was sworn in at a packed sports stadium in the Kenyan capital Nairobi, where he was elected on Sunday by a 275-member interim parliament after almost two years of tortuous negotiations.
"This is a moment of great joy for all people of Somalia and all of us present today," Kenyan President Mwai Kibaki said.
A career soldier and leader of Somalia's autonomous Puntland state since 1998, Yusuf is tasked with establishing a government and returning to Somalia, where heavily armed militias rule their fiefdoms by the bullet.
A self-declared ally in Washington's "war on terror", Yusuf must now appoint a cabinet and a prime minister, and build up the machinery of government to lead his country of 7 million toward democratic elections in five years.
Immediately after his election on Sunday, Yusuf appealed for international help in disarming the militias, and is expected to seek money from donors to rebuild the shattered country.
Seen as a no-nonsense strongman who will take a hard line against rivals, Yusuf is also no fan of militant Islamists, who U.S. officials fear may use the lack of central government in Somalia to avoid scrutiny of their activities.
Somali analysts say his closeness with Ethiopia's nominally Christian-led administration are also likely to make him unpopular with Islamist Somalis whose alliances lie with neighbouring Djibouti and Arab nations.
Such strains may make it difficult for Yusuf to command the north of Mogadishu, which is controlled by Islamic courts backed by wealthy local businessmen. Read more.
SFJ's note:
The Somali church expects much from the elected Somali president, Col Abdullahi Yusuf Ahmed. The president is a man who has no a soft spot for Islamic extremism and this is a trait in which the Somali church can benefit from.

The Somali church prays for our president and we express here our full support, moral and material, for him.

May the Lord give our president the wisdom and the strength he needs to resurrect our country from the ashes of shame.

Filsan Odawa